Flora & Fauna

ST CLEER GENERAL CEMETERY BREEDING BIRD SURVEY
(COMMON BIRD CENSUS)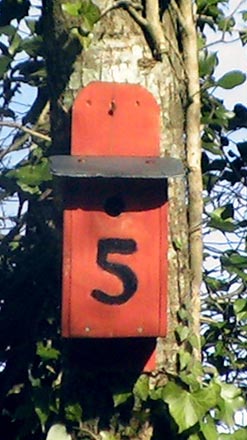 INTRODUCTION
The primary objective of the St Cleer Parish Projects Group is to restore the nonconformist miners burial chapel and cemetery and to ensure it's future. The Group's secondary and parallel objective is to record and maintain the cemetery's wildlife and flora by involving the pupils of St Cleer School.
With regard to the wildlife it was decided to carry out a survey to ascertain the number and diversity of bird species breeding within the cemetery confines. To achieve this a Common Bird Census (CBC) devised by the British Trust for Ornithology (BTO) was carried out. The CBC was introduced by the BTO in 1962. It's aim is to monitor bird population numbers chiefly on farmland, where the growing use of agricultural chemicals and the accelerating destruction of Hedgerows were causing concern. The CBC has also been used in woodland and other habitats and provides a solid base for answering questions concerning the status of breeding birds.
METHODOLOGY
The CBC is based on the MAPPING METHOD in which a series of visits are made to all parts of a defined plot and CONTACTS with birds (by sight and sound) are recorded on large scale maps – VISIT MAPS
At the end of the chosen number of visits, the registrations are copied across onto a separate map for each species observed during the visit period. – SPECIES MAPS. These maps summarise all the information recorded for each species observed. Then each SPECIES MAP is analysed to estimate the number of territories found for a particular species.
The special advantage of the mapping method is that the maps which are produced show the approximate location of every territory detected in the form of clusters. These maps can show the preferred territorial sites and measure the effects of habitat change caused by management and maintenance work.
FINDINGS OF THE 2007 CBC
Following the completion of restoration work on the chapel and the "tidying up" activities within the cemetery, it was decided to conduct another Breeding Bird Survey. The reason for this repeat survey in the spring of 2007 was to ascertain whether the outcome of work undertaken had had any impact (both beneficial and detrimental) on the numbers and varieties of bird species using the site. As with the preceding spring period of 2006 a survey was carried out using the British Trust for Ornithology's Common Bird Census mapping method. (For details of methodology refer to the 2006 report)
A total of 11 recording visits were made starting on the 27th March and ending on the 12th June. The interval between each visit was approximately one week. Once again both VISIT MAPS and SPECIES MAPS were produced and are included with this report. Similar to last years survey a total of 21 different species were recorded. The recorded species and their status is outlined in alphabetical order in the following section.
SPECIES RECORDED AND STATUS
Analysis of the SPECIES MAPS classifies species status as falling into three distinct categories:
1 DEFINITELY BREEDING
Qualifying criteria: Birds carrying nesting material or food. Record of nests and/or young.
2 PROBABLY BREEDING
Qualifying criteria: A grouping (cluster) comprising at least three registrations from 11 effective visits.
3 INSUFFICIENT DATA
Qualifying criteria: Recordings not meeting criteria detailed in 1& 2 above.
In addition so that comparisons can be made with the preceding years findings, the status for 2006 is shown in brackets.
BLACKBIRD
Seven territories were recorded. Two plots showed definite evidence of breeding, whilst five plots indicated probable breeding.
(2006 also had seven territories of which three showed definite breeding and four probable breeding).
BLACKCAP
Insufficient data. Only two sightings were recorded. A singing male on visit D and a female on Visit E. Obviously these two birds were passing through on migration.
(Similarly 2006 was insufficient data with only one observation recorded).
BLUE TIT
Three territories were recorded. Two plots indicated definitely breeding. Both plots revealed that nest boxes 1 and 7 were in use. The third plot showed probably breeding.
(Similarly the 2006 analysis revealed three territories. Two plots gave definitely breeding data with nest boxes 4 and 7 being occupied. The remaining territory indicated probably breeding).
CARRION CROW
Although this species was regularly seen passing overhead and therefore not eligible for recording, one observation (Visit H) is of interest. This species was seen to take an egg from a WOODPIGEON'S nest, thus providing evidence that the WOODPIGEON was definitely breeding.
CHAFFINCH
Three territories were plotted all indicating probable breeding.
(2006 record was three territories also. Two plots showed definitely breeding with the remaining plot indicating probably breeding.
CHIFFCHAFF
The observation was a singing male on Visit D only. Therefore insufficient data available. Another passage migrant.
(2006 also had a single bird on Visit D. Again insufficient data).
COAL TIT
This species was not recorded during 2007 period
(one territory was identified in 2006 and listed as probably breeding. However, on cleaning out the nest boxes in the autumn, nest box 3 revealed a sad story. The nest box contained a nest, which held two addled COAL TIT eggs. It would appear that the female had died, probably to a predator such as a SPARROWHAWK and the male moved on).
COLLARED DOVE
Late on in the survey period recordings indicated a territory and probable breeding. *note these birds can rear broods throughout the year.
(In 2006 one pair indicated definitely breeding status).
DUNNOCK
Recordings could only show one sighting on Visit C. Therefore insufficient data.
(In 2006 insufficient data was recorded to establish the existence of a territory).
GOLDCREST
A single bird was recorded on four consecutive visits (A-D). Although a territory was held, the bird (male?) moved on to find a partner elsewhere.
(In 2006 a territory was plotted, but it was not possible to state probably breeding).

GOLDFINCH
On Visit J a bird foraging for food was the sole record; obviously the nest was off site. Status Insufficient data.
(A pair were recorded in 2006, but insufficient data was recorded to establish breeding)
GREAT TIT
Two pairs were present throughout the survey period and evidence indicated that both pairs were probably breeding.
(Status was the same for two pairs noted in 2006).
GREENFINCH
A territory was established and nest building was taking place. However, no recordings occurred from Visit D onwards. It appeared the pair had abandoned the nest.
(In 2006 insufficient data was obtained for this species).
HOUSE SPARROW
Only four plots indicating definite breeding were recorded. The number of territories was much lower than in 2006, but was expected as renovation of the chapel sealed many nesting holes. Also other nesting sites had been removed to give clear access to a number of graves.
(In 2006 nine plots indicated definitely breeding; six in the chapel roof with a further three plots showing probably breeding.)
JACKDAW
Only a single recording made on Visit K, but it was a sighting of a pair lining an abandoned ROOKS nest with moss in preparation for nesting. Verdict: most probably bred
(Insufficient data was gathered in 2006 to identify possible breeding).
LONG TAILED TIT
Insufficient data to establish status as only one observation was made.
(This species was not recorded in 2006).
MAGPIE
A pair occupied the same nest as in 2006 and were definitely breeding
(Recorded as definitely breeding in 2006).
ROBIN
Three territories were recorded of which two plots indicated definitely breeding. The remaining plot showed probably breeding. The number of plots were significantly lower than in 2006. This was probably due to grubbing out shrub vegetation to provide access to graves.
(In 2006 six territories were identified. Two plots showed signs of definitely breeding, with four showing probably breeding).
ROOK
The rookery established in the previous year showed an increase in the number of occupied nests to six. All six pairs were definitely breeding,
(Four nests were built and four pairs were definitely breeding in 2006).
SONG THRUSH
One territory was identified and evidence indicated probably breeding.
(Similarly the 2006 survey indicated one probable breeding territory).
STARLING
This species was not recorded.
(In 2006 insufficient data was gathered to establish breeding).
WOODPIGEON
Two territories were noted. One plot showed definitely breeding; the other probably breeding.
(In 2006 three plots were noted. One definitely breeding, one probably breeding and the third plot provided insufficient data).
WREN
Two territories were identified and both plots provided evidence of probable breeding.
(Only one territory was noted in 2006 and indications were of probable breeding).

CONCLUSIONS
The survey of 2006 was carried out to establish a datum against which it would be possible to measure the impact of management and restoration work carried out within the cemetery and on the chapel, on the diversity and number of bird species.
It is pleasing to report that despite a considerable amount of work being undertaken, very little change was made to the bird population and variety of species. The only exceptions noted were with regard to the HOUSE SPARROW and ROBIN whose breeding population showed a marked decrease. These decreases were directly attributable to the restoration and "tidying up" activities. In an attempt to restore HOUSE SPARROW breeding fortunes five nest boxes with larger holes have been placed on trees near to the chapel. It was not possible to mount nest boxes under the chapel guttering and eaves, which would have been preferable.
The variety of fauna and flora recorded within the cemetery still shows the site has real potential to become a valud wildlife haven for the community.
Bob Stockhausen
26th June 2007.

TERRITORY COMPARISON BETWEEN YEARS 2006 AND 2007.
SPECIES Status 2007 compared with 2006
BLACKBIRD
BLACKCAP
BLUE TIT
CHAFFINCH
CHIFFCHAFF
COAL TIT
COLLARED DOVE
DUNNOCK
GOLDCREST
GOLDFINCH
GREAT TIT
GREENFINCH
HOUSE SPARROW
JACKDAW
LONG TAILED TIT
MAGPIE
ROBIN
ROOK
SONG THRUSH
STARLING
WOODPIGEON
WREN

=
=
=
=
=
-
=
=
=
=
=
+
-
+
+
=
-
+
=
-
=
+
Above indicates no real differences between the two years. This indicates that the restoration and "tidy up" work has made minimal impact, with exception of HOUSE SPARROW and ROBIN
ADDITIONALS TO FAUNA LIST
AMPHIBIANS
Common Frog
MAMMALS
Grey Squirrel
Mole
Brown Rat
Bank Vole
Pygmy Shrew
BUTTERFLIES
Orange Tip
Red Admiral
Peacock
Speckled Wood
Small White
Green Veined White
Large White
Small Tortoiseshell
FINDINGS OF THE 2006 CBC
A total of 10 recording visits were made starting on 4th April and ending on 7th June. The interval between each visit was approximately one week.
On completion of the VIST MAPS the recordings of the birds seen and heard were transferred onto SPECIES MAPS and the grouping of species records was analysed.
A total of 21 different bird species were recorded on site over the visit period, which is a good showing for such a small contained plot.
Of the 21 species recorded, analysis revealed the following:-
9 species were found to be definitely holding territory and breeding (see list A)

5 species were recorded as holding territory, but no obvious evidence was found to confirm definite breeding (see list B)

7 species were recorded, but insufficient information was available to show territories being held (see list C)
CONCLUSIONS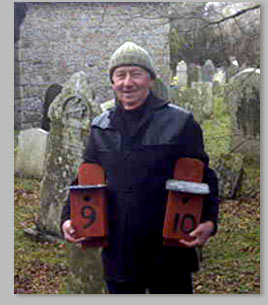 A very promising record of species present on the site, which shows that the cemetery has real potential to become a wildlife haven. This survey establishes a datum against which it will be possible to measure the effect of management work carried out within the cemetery during following years. By comparing future survey results against the 2006 datum, the impact of habitat changes on bird life can readily be determined and whether such changes are beneficial or detrimental.
Indeed there could already be a detrimental impact on HOUSE SPARROWS regarding next years breeding season. This year 6 nests were located in or under the chapel roof. With the completion of the restoration work on the chapel there probably will not be the same number of nesting sites available. To counter this it may be prudent to mount nest boxes under the eaves and guttering
Forthcoming management work being programmed for autumn needs to be done in conjunction with reference to the SPECIES MAPS thus ensuring that the recorded nesting sites are not destroyed

Bob Stockhausen
28th August 2006.
LIST A – BIRDS DEFINITELY HOLDING TERRITORY AND BREEDING
Qualifying criteria : Birds carrying nesting material or food. Record of nests and/or young
BLACKBIRD, BLUE TIT, COLLARED DOVE, CHAFFINCH, HOUSE SPARROW, MAGPIE, ROBIN, ROOK AND WOODPIGEON.
LIST B – BIRDS DEFINITELY HOLDING TERRITORY, BUT NO OBVIOUS SIGNS OF BREEDING
Qualifying criteria : A grouping (cluster) comprising at least 3 registrations from 10 effective visits.
COAL TIT, GOLDCREST, GREAT TIT, SONG THRUSH AND WREN
LIST C – SPECIES WITH INSUFFICIENT RECORDINGS MADE
Qualifying criteria : Not meeting criteria detailed in lists A and B
BLACKCAP, CHIFFCHAFF, DUNNOCK,GOLDFINCH, GREENFINCH, JACKDAW AND STARLING.

NESTBOX RECORDS OF USE
NESTBOX NO 2 – Prospected by GREAT TIT
NESTBOX NO 3 – Prospected by both BLUE TIT AND COAL TIT
NESTBOX NO 4 – Initially prospected by GREAT TIT, but occupied by BLUE TIT who produced young.
NESTBOX NO 5 - Prospected by GREAT TIT
NESTBOX NO 7 – Occupied by BLUE TIT who produced young.
The above is a record based on the observations made during the visit period. Clearing and cleaning of nestboxes in the autumn may provide further information of use.

2006 - 2007 Flora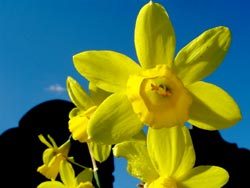 Snowdrop - (galanthus nivalis)
Dog violet - (viola riviniana)
Greater periwinkle - (vinca major)
Crocus - (sieberi atticus)
Primrose - (primula vulgaris)
Daffodil - (narcissus pseudonarcissus)
Lady's smock - ( cardamine pratensis)
Bluebell - (hyacinthoides nonscriptus)
Navelwort - (umbilicus rupestris)
Daisy - (bellis perennis)
Lesser celandine - (rananculas ficaria)
Dandelion - (taraxacum officinale)
Common groundsel - (senecio vulgaris)
Bugle. - (ajuga reptans)
Greater stitchwort - (stellaria holostea
Greater celandine - (chelidonium majus)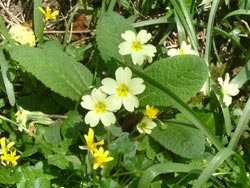 Germander speedwell - (veronica chamaedrys.
Red campion - (silene dioica)
Forgetmenot - (myosotis arvensis)
Red clover - (trifolium pratense)
Oxeye daisy - (leucanthemum vulgare)
Broad leaved dock - (rumex obtusifolius)
Stinging nettle - (urtica dioica)
Herb robert - (geranium robertianum)
Columbine - (aquilegia vulgaris)
Creeping cinquefoil - (potentilla reptans)
Meadow buttercup - (ranunculus acris)
Common tormentil - (potentilla erecta)
Silverweed. - (potentilla anserine)
Foxglove - (digitalis purpurea)
Cleavers - (galium aparine)
Agrimoney - (agrimonia eupatoria)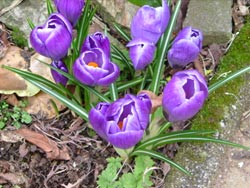 Herb bennet - (geum urbanum)
Creeping buttercup - (ranunculus repens)
White clover - (trifolium repens)
Honeysuckle - (lonicera periclymenum)
Sorrel - (rumex acetosa)
Cabbage thistle - (cirsium oleraceum)
Field milk thistle - (sonchus arvensis)
Cats ear - (hypochoeris radicata)
Rough hawksbeard - (crepis biennis)
Larger bindweed - (convolvulus sepium)
Jackbythehedge - (alliaria petiolata)
Wild strawberry - (fragaria vesca)
Broad leaved willow herb - (epilobium montanum)
Large birdsfoottrefoil - (lotus uliginosus)
Annual knawel - (scleranthus annuus)
Yellow pimpernel - (lysmachia nemorum)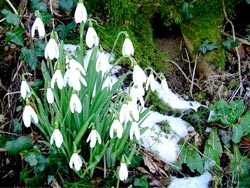 Ribwort - (plantago lanceolata)
Ground ivy - (glechoma hederacea)
Green alkanet - (pentaglottis sempervivens)
Cutleaved cranesbill - (geranium dissectum)
Ivy - (hedera helix)
Great orme berry - (cotoneaster integerrima)
Ground elder - (aegopodium podagraria)
Blackberry - (rubus fruticosus)
Trees & shrubs
Copper beech - (fagus purpuea)
Hazel - (corylus avellana)
Damson - (prunus domestica)
Hawthorn - (crataegus monogyna)
Yew - (taxus baccata)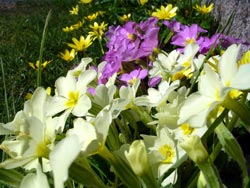 Common beech - (fagus sylvatica)
Cherry laurel - (prunus laurocerasus)
Common ash - (fraxinus excelsior)
Elder - (sambucus nigra)
Holly - (ilex aquifolium)
Gorse - (ulex europaeus)
Silver birch - (betula pendula)
English oak - (quercus robur)
Blackthorn - (prunus spinosa)
Rhododendron - (rhododendron ponticum)
Animals
Grey squirrel - (sciurus carolinensis)
Mole - (talpa europaea)
Brown rat - (rattus norvegicus)
Bank vole - (clethrionomys glareolus)
There are a number of ferns, grasses & mosses in the cemetery that have not been identified yet.